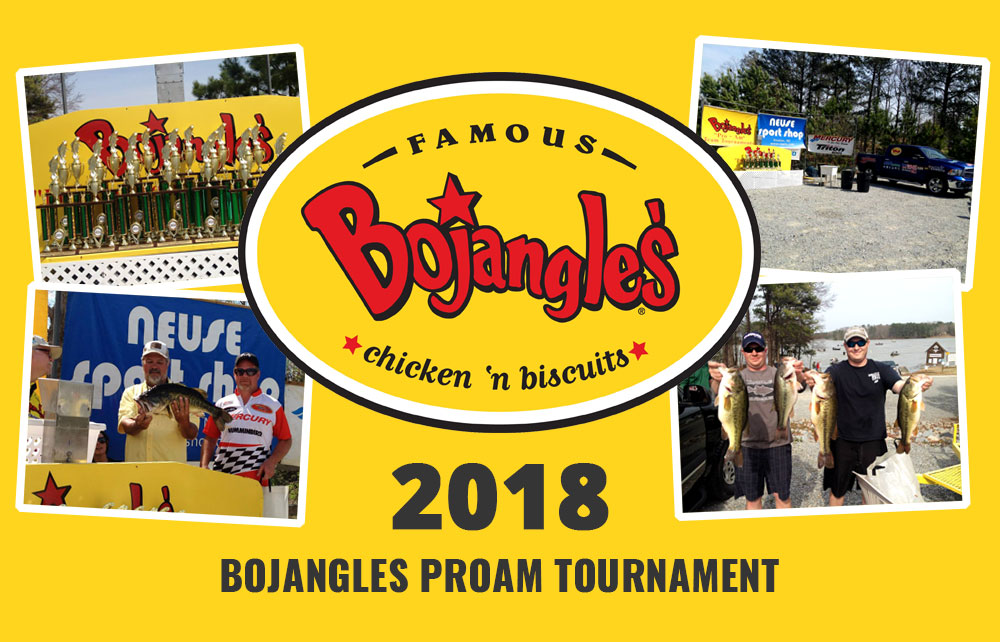 2018 Bojangles ProAm Tournament
North Carolina's oldest televised bass tournament is back for it's 31st anniversary.
Two Tournaments in Division 1 & Division 2
ONE PLACE PER 6 BOATS
$35 MEMBERSHIP REQUIRED
Call for details 252-527-0918
Email – Dannyjoe@suddenlink.net
---
Rules:
Fish limit per team east of HWY 95 all 14". Fish limit per team west of HWY 95 • 4-12" – 1-14"
B.I.A. Rating (no overpowered boats)
Tenth pound penalty for dead fish. 1# penalty each short fish
One number per minute late penalty 10 minute max
The tournament director can refuse any entry
No alcohol from check-in thru the awards
Polygraph or stress test may be given to anyone any time for any reason. If you fail the test or refuse to take you will be DQ.
Starting positions will be determined by a drawing at the September meeting
The balance of entry fee money is due before the morning of event. If you pay at the ramp there is a $10 late fee (no exceptions) we will accept credit card via the telephone
In the event of a tie the money will be added together an split equally
Participation will be open to anyone over 18 unless accompanied with & adult
Life jackets must be worn when power motor is running and kill switch must be attached to the life vest
Top 5 in points for the season will start by place on next years trail
Off limits: Mon, Tue, Wed, and Thu before each event. Friday is practice unless there is a holiday on the off limits
To cover discrepancies, official bass rules may apply
Contestants will not be allowed to carry extra gas in their boat. They can however make arrangements to get gas.
All protest will be brought before Danny Joe, one of his staff or one of the board of directors before the scales are closed. 4:15pm. – no exceptions
There is a $35.O0 per person association fee that is required to fish
Payback will be based on 1 place for each 5 entries
Please call me or anyone of the board members if you have a problem or concern. Get all the correct facts before you act
Qualifying for pro classic: you must finish in the top 60% in points or fish in 5 events. 50 point system
Qualifying for am classic: you must finish in the top 60% in team points or fish in 5 events with the same partner. 30 team point system
Each team gets one hardship event per season (call me for details)
All bridges are no wake zones. (no exceptions)
You must return in the boat you left in or you and your fish can return with another competitor. You can change boats if the new boat is rechecked by me or one of my staff. Each team must check in in the morning & the afternoon of the tournaments.
Dates:
3-17-18 / HARRIS LAKE / DAM SITE
4-7-18 / GASTON LAKE / SUMMIT RAMP
4-28-18 / SUTTON LAKE / WILLMINGTON, N.C.
5-12-18 / KERR LAKE / FLEMINGTOWN
6-16-18 / CHOWAN RIVER / EDENTON, N.C.
7-14-18 / ROANOKE RIVER / PLYMOUTH, N.C.
8-11-18 / NEUSE-TRENT / NEW BERN, N.C.
9-14-18 & 9-15-18 / CLASSIC CHAMPIONSHIP (MUST QUALIFY)
2018 TOURNAMENT TRAIL WILL ADD TWO HIGH SCHOOL YOUTH TOURNAMENTS.
Contact:
Danny Joe
252-527-0918
Dannyjoe@suddenlink.net
Sponsors: